The Power of Love
How R180 rand can ease suffering- one family at a time
By Murray Williams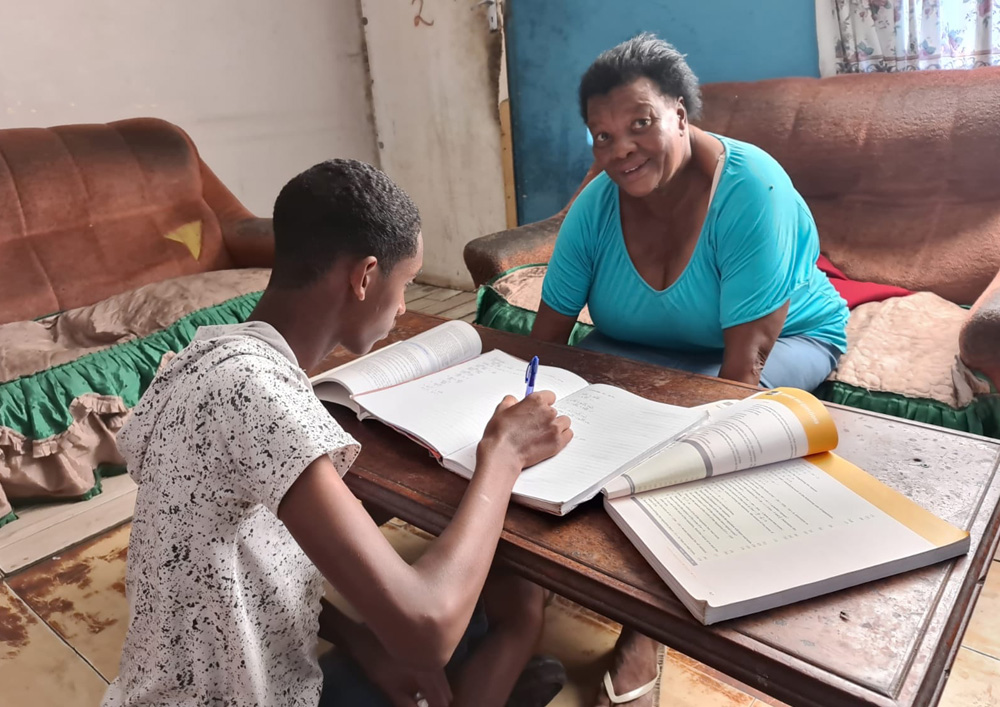 Young Cammy knew this academic school term would be tough – in the midst of the COVID-19 crisis.
But the budding maths star would soon realise: It's so much more difficult on an empty stomach, aching with hunger.
The young man is aged 16, and is in Grade 11 at Macassar High.
His name is not published here, to protect his child rights. But his nickname is Cammy, and he spoke freely of the generous donation which has now saved his family's life.
The teen lives with his grandmother in Macassar. When he was aged 10, he participated in music and drama classes offered by the Imibala Trust, a social support organisation based in Somerset West.
The child blossomed, and it was soon clear he had a rich talent for mathematics. He was thus given an opportunity to join the ImiBala "Learner Advancement Programme". That was five years ago, and he remains on the ground-breaking educational syllabus.
But when the COVID-19 pandemic struck, and South African society was placed under "Lock-down" on March 27 – the terrible impact began to take its toll.
"My Great-Grand Mother used to work at a coffee shop at Somerset Mall – but that stopped in 'Lock-down'. Our only income in the family ended. We had nothing," the young man said.
CEO of ImiBala Trust, Theo Willemse, explained: "This young man and ourselves have built up a relationship of care and trust, for many years.
"So, when he realised his family had no money for food – he reached out to us. It was an honour to take his call."
ImiBala Trust placed the family on the "Feed-A-Family" programme. This is a carefully-managed programme which attempts to donate "Family Food Packs" to the families of 1 600 learners at specific schools in the Helderberg Basin.
The NGO's database is a long list of deserving learners, who are members of vulnerable families. Each "Family Food Parcel" caters for a family-of-four.
Cammy's family received their first "Family Food Pack" on 22 April and received their secondly weekly donation on Monday May 4.
The teen said: "This food has helped so much. We are ten people in this household – and this is the only food we are receiving, right now."
Willemse said: "We live in such a caring society. It is also so important that every donation received is distributed in a carefully structured manner – so the impact is felt by those in need."
Meanwhile, the teen now has sufficient nutrition to focus not on his hunger, but his maths again.
"When I was hungry, with no meals, it is so difficult to focus. Especially on maths – one has to be at one's best. It's not easy with no nutrition."
The "Feed-A-Family" campaign can be supported by all.
A donation of R180.00 pays for one "Family Food Pack" – which feeds a family-of-four for one week.
Families and businesses in the Helderberg Basin, and beyond, are urged to support learners like Cammy.
Donate today:
The Imibala Trust
First National Bank
Account number: 62173955918
Branch code: 260505
SWIFT Code: FIRNZAJJ
Ref: food parcels
*PLEASE EMAIL THEO@IMIBALA.COM IN ORDER THAT WE MAY ACKNOWLEDGE AND ALLOCATE YOUR DONATION APPROPRIATELY.