Gifted and Talented!
Dear Friends and Supporters,
The Imibala Trust is delighted to introduce and feature former Imibala learner, BEVERLY KELOSI, who chatted with us recently about the incredible achievement and honour of her being elected as Somerset College's Deputy Head Girl for the year 2021.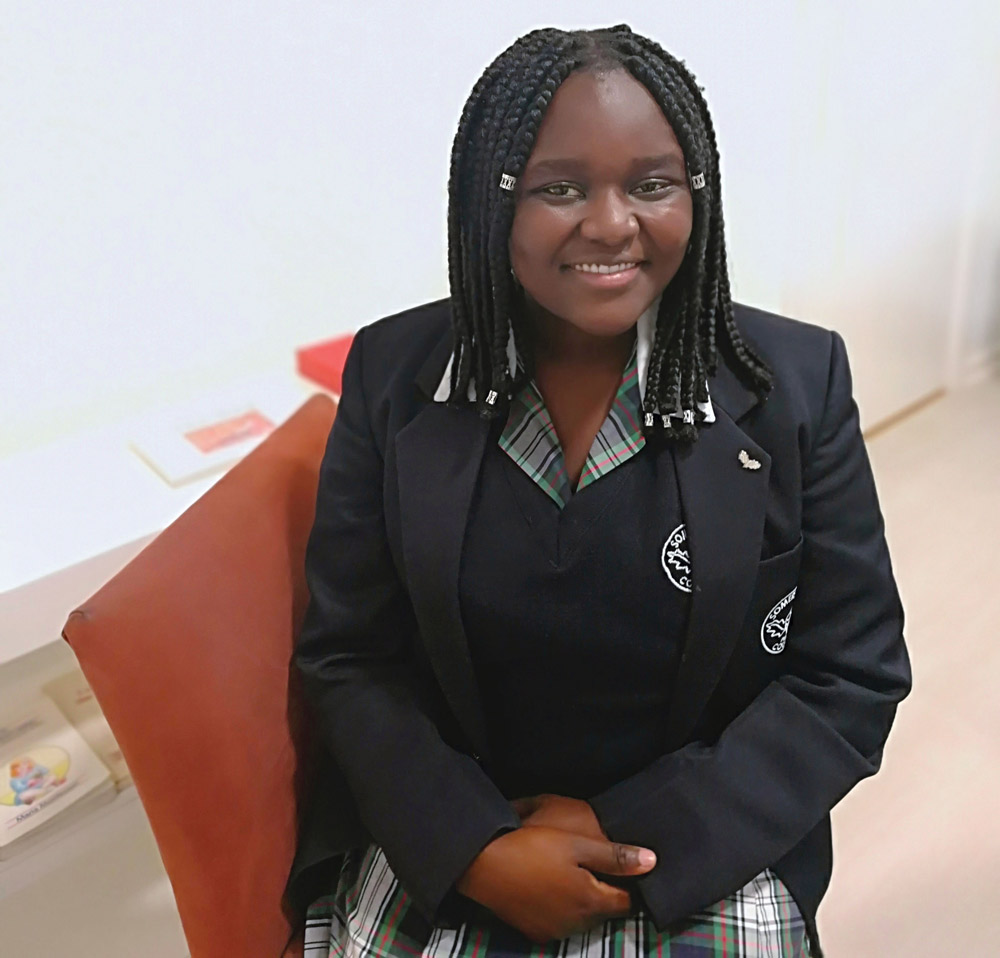 Beverly attended Somerset West Methodist Primary from grade 2. It was here that she became aware of Imibala through the Sponsor-A-Child Programme and saw what a positive impact it made on her classmates.
From 2013, when Beverly was in grade 4, to 2016, she took part in The GATE (Gifted and Talented Education Programme), initiated and driven by The Imibala Trust, and she performed exceptionally well.
'Without The GATE initiative I genuinely do not know where my life would be at this moment. Imibala really was the first swing to all of the opportunities that have come into my life.'
Beverly fondly recalls the various outings that she and her five GATE Programme peers attended. She says these opportunities enabled her to enjoy new and exciting adventures; experiences that allowed her to be exposed to environments that she would ordinarily not have visited. The GATE project prepared her for secondary education as her knowledge and skills were expanded, and her horizons broadened.
In 2017, with the invaluable help of Mmes Isobel Roberts and Wendy Carter, Imibala identified a group of six gifted children from the schools that Imibala works with. These girls, of whom Beverly is one, did exceptionally well and it was felt that, given the opportunity, they would go far in life. Mrs Gaynor Rupert sponsors their school fees at Somerset College, a top private school in the Cape that has close links with Imibala, and has assisted the charity since its inception.
Throughout her school career Beverly has prided on being true to herself. While she chooses not to single out one particular role model, she prefers to acknowledge and select different qualities, provided by various individuals who have touched her life, that she sees as positive and worthy of striving for in her life.
Beverly has the good fortune of having a loving and supportive family who has always encouraged her, not only to be herself, but to shine and to show others her sparkle and strength. There is no doubt that her family is thrilled with her being awarded the accolade of Deputy Head Girl at Somerset College, and it gives Imibala and all concerned a great deal of joy and pride that Beverley has achieved this wonderful success.
Remain focused and inspired, Beverly! We wish you every success in your future studies and endeavours. Do visit us from time to time: we shall be watching this space.